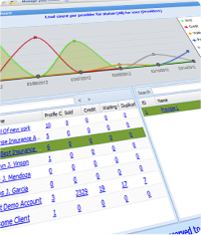 San Diego, CA (April 2, 2012) - EnterpriseLead.com, a web based software company that specialize in online Lead Management and is the number one Lead Trading Platform, has unveiled its new Lead Management system version 2.0
The newer version of its software comes with added new features, easy to use navigation tool bars, and a built in CRM system with unlimited users. With its continued commitment of no sign up fees, set up fees, hosting fees, and free training. EnterpriseLead.com continues with their "Pay Per Lead Sold" pricing policy.
"With such new features as Instant Call Back, Call Center integration , and a state of the art CRM we are positive we are the number one Lead Trading Platform in the industry", says Ed Momani, CEO of EnterpriseLead.com.
EnterpriseLead.com has been ahead of the fray since its first web based Software was introduced by creating the Ping Post/Ping Tree systems that has been in use to date by several CRM companies and the competition alike. The list of features and additions to its Lead Management software keeps growing and being developed.
For more information about EnterpriseLead.com's newest Lead Management Software us at 1-866-864-2050 or email at contact@enterpriselead.com